Last week, the 4th China Design Intelligence Awards (DIA) launched the official announcement, and the new DIA collection was formally opened. Today, it is the 7th day of the collection period.
There have been many partners who have started the competition for the Million Prize after a full preparation for one year. We see the daily increase in the number of declared places in the background, not only want to cheer for you, but also want to pass more koi good luck to you! Check out the registration tips to learn more about registration.
Still thinking about the little friends on the way to sign up, is it that I am always told that "DIA" is coming.
According to effective statistics, since its launch last week , DIA hascollected 110 well-known media reports from home and abroad, covering TV stations, radio, magazines, comprehensive network media, WeChat public account, etc., involving news, technology, finance, design and professional media. Official media such as industry associations. Among them, 70 media in the territory reported in detail, 40 overseas media reported in detail, and 416 portal media websites reprinted reports, with a maximum number of page views of 117,000. It is worth noting that this year's overseas media coverage accounted for 88.6% of all reports.
Within 70 media together and force
Helping China's new smart plan
On the day of the launch, nine official platforms including the Zhejiang Provincial People's Government, the Zhejiang Provincial Economic and Trade Office, the China Academy of Art, and the China Design Intelligence Awards were simultaneously announced to launch the announcement;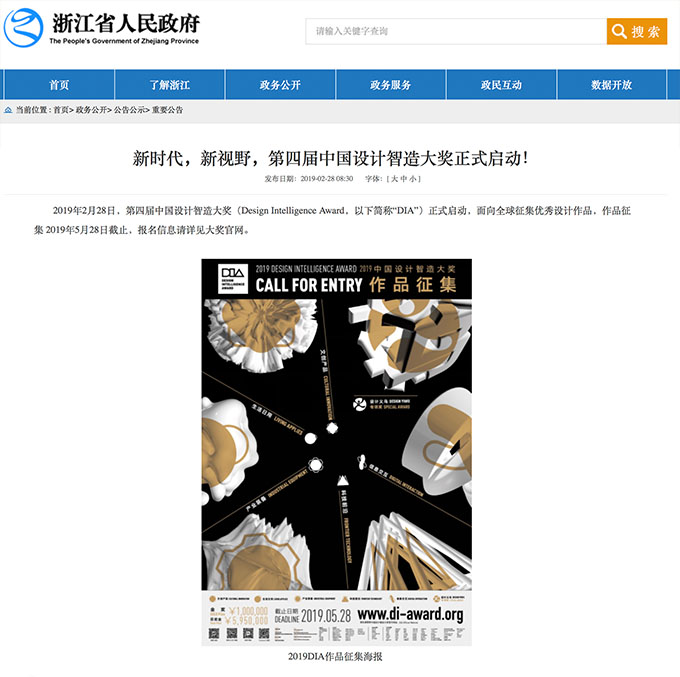 Source: Official website of Zhejiang Provincial People's Government
At the same time, Guangming.com, People.com Overseas Edition, China News Network, Zhejiang News, China.com, China Youth Online, China Youth Network, China Economic Net, China Business Network, China Financial Times, Sina.com, Netease.com, Tencent.com, Sohu.com Network, Phoenix, Ocean, Southern, Yangzi Evening News, Dongfang.com, International Online, China Gold Online, DONEWS, TECHWEB, TOM, Pacific Home, Hexun, Beiqing, HC, Technology, etc. 40 The official media platform for news, finance, and technology releases relevant detailed reports;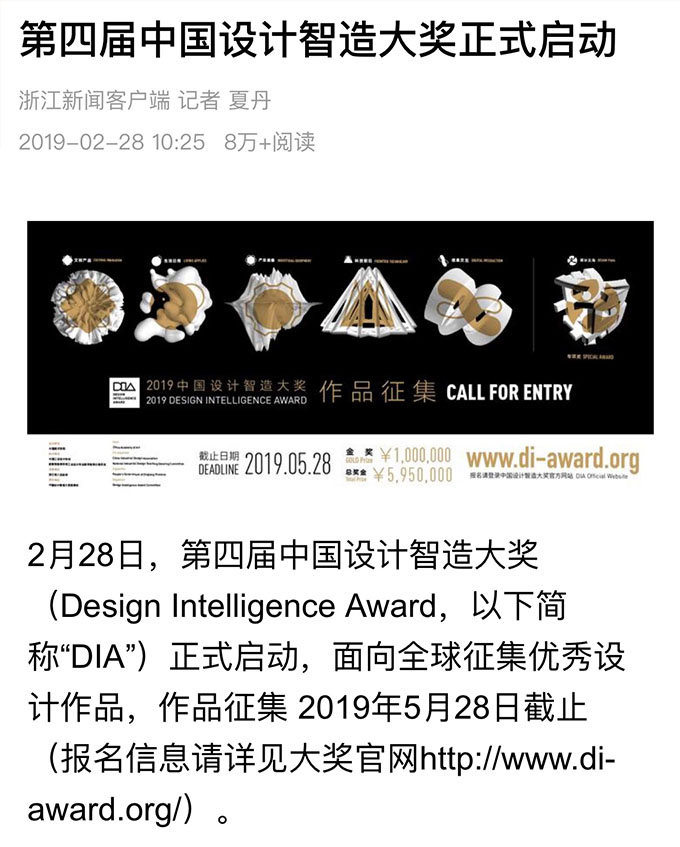 Source from: Zhejiang News Client
11 design- related official media such as NetEase Design, Sina Home, Artron Art, Design China, Design Alliance, etc. released relevant special reports ;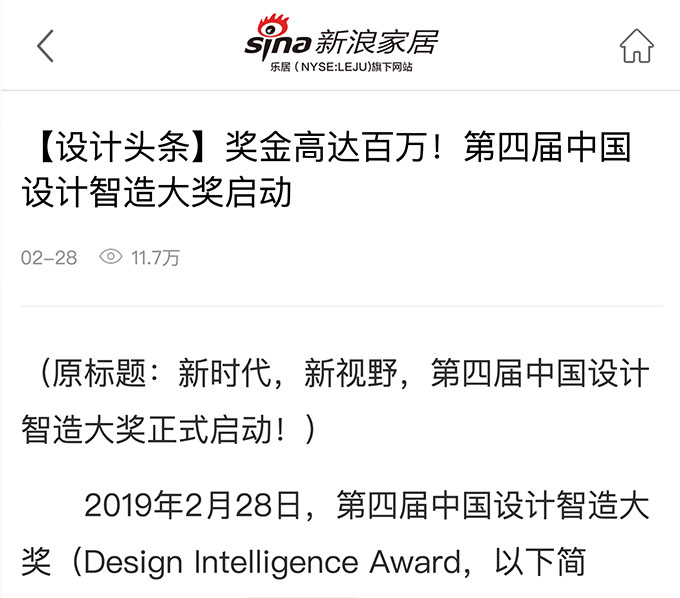 Source from: Sina home client
The official media of 10 industry associations such as China Industrial Design Association, Zhejiang Industrial Design Association and Zhejiang Internet of Things Industry Association released relevant detailed reports.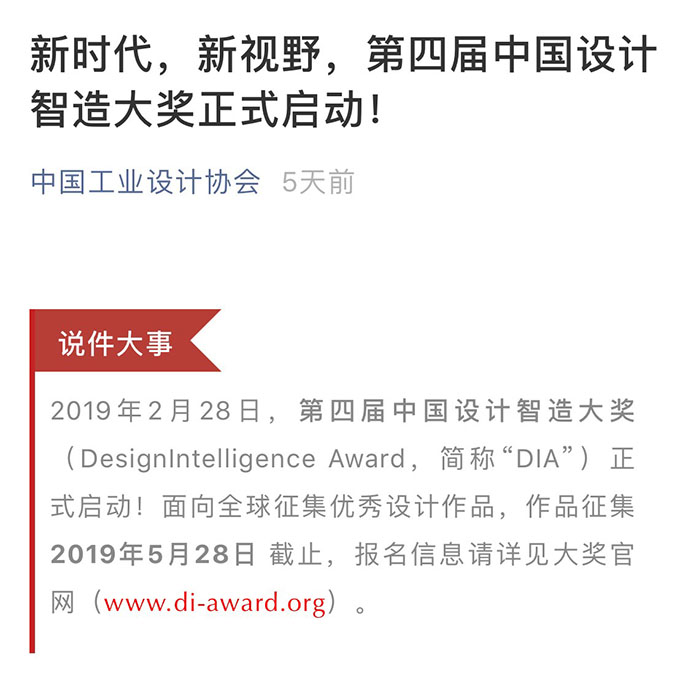 Source: China Industrial Design Association
40 overseas media outlets
Boost China's smart new upgrade
On the day of launch , DIA international experts from Japan, France, Germany, the United States, Italy , director of the Japan Industrial Design Association , Yukioka Hideyuki, President of the Design Institute of the Polytechnic of Milan, Francesco Zurlo, Professor of the Rochester Institute of Technology, John owen, Paris , France, Mathilde Brétillot Matryde Bretillot, founder of Créations Design Studio , Mathis Heller, DeTao's automotive and industrial design master , and Toshika Hideki, founder of Nosigner Design , called on global innovation designers to join 2019 DIA.
Click to watch|2019DIA International Expert Global Connection
Prior to this, Reuters, Associated Press, Yahoo News, Yahoo Finance, Morningstar, US Today Headlines, TGDaily, European Postal Gazette, Canada Money Magazine, Canada Digital Journal, Azcentral, Daily Herald, The Buffalo news, Big Spring Herald,The Everything Leader,National Broadcasting Company,CBS8,Fox34,The CW Television Network, etc.more than 40 media reported.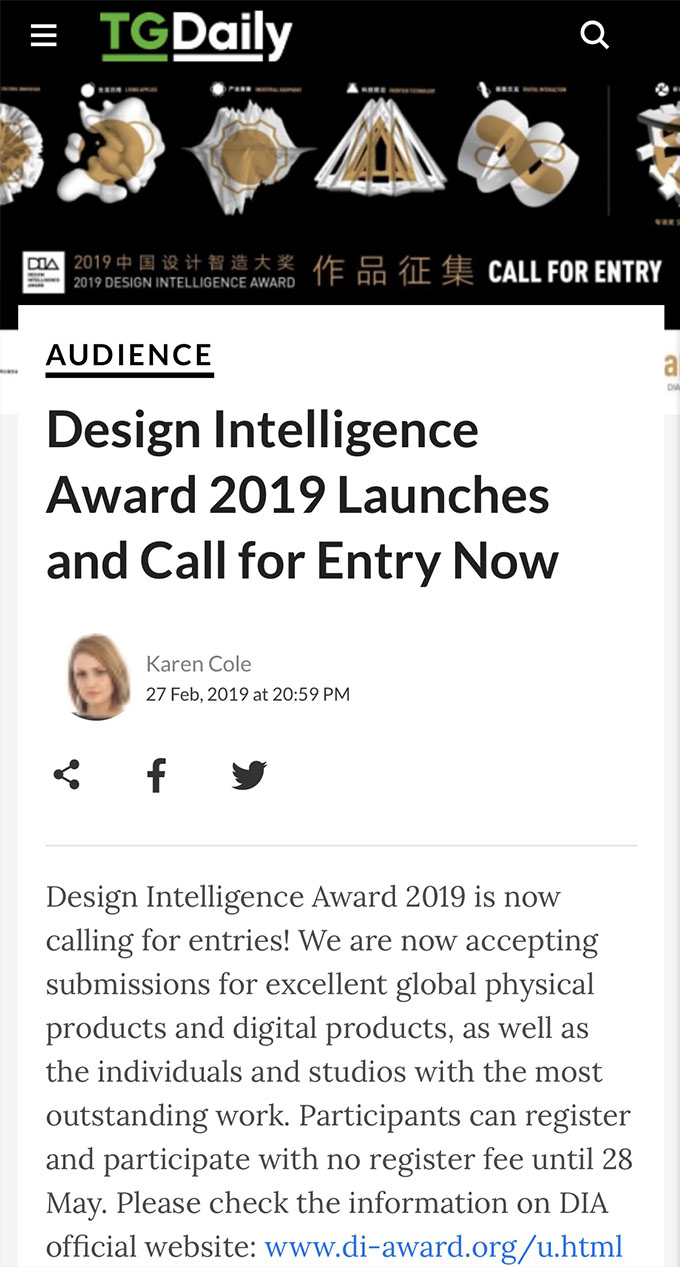 Source: TGDaily
At the same time, 416 media outlets such as sprout news, 2news, and abc-7 reprinted relevant reports ;
It is worth mentioning that the world design organization World Design Organization, India Pool magazine, Japan JIDA Industrial Design Association, as DIA industry partners and media partners also published detailed reports in their respective official media.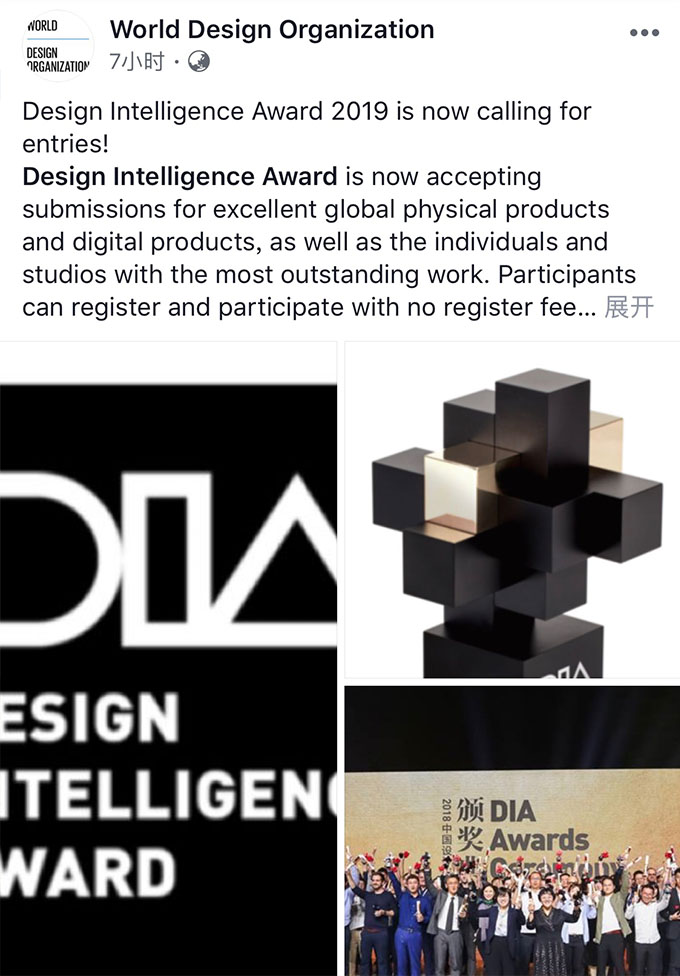 Source: World Design Organization Official FB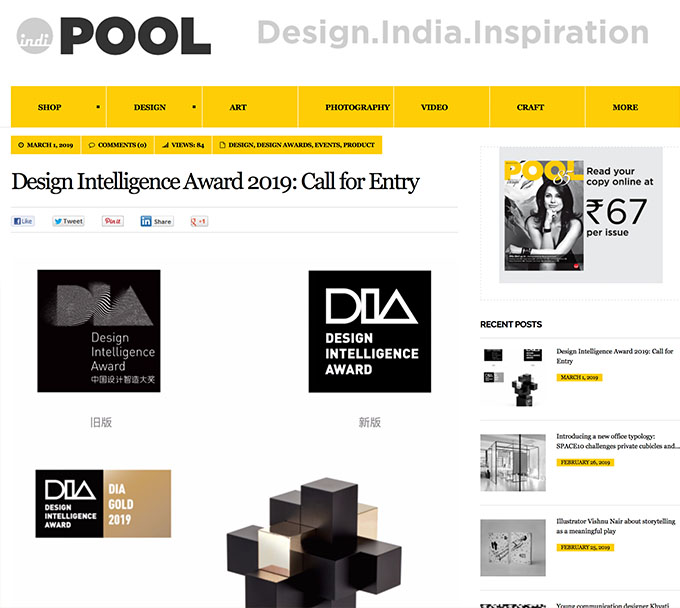 Source from: India indipool official website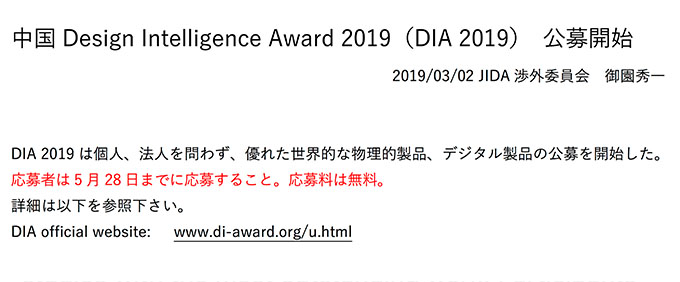 Source: Japan JIDA Industrial Design Association
Here, we would like to express our gratitude to all media and industry partners who support DIA ! In the new year, DIA looks forward to working with you to open a new page and help China's new wisdom.
Wisdom to promote the company, global interaction, and wish DIAcontestants double luck, dreams come true!