1.Delivery Duration
1)June 28, 2019-July 10, 2019(UTC+8, 9:00-16:00)
2)Entries arrived in advance or overdue won't be signed for.
2.Delivery Address
Recipient: Design Intelligence Award Committee
Address: Exhibition Preparation Area(East Gate), 1st Floor, Zhejiang Exhibition Hall, No.197 North Huancheng Road, Xiacheng District, Hangzhou, Zhejiang Province, China 310006
1)Tel: +86-153-8109-1589
2)Email: info@di-award.org
3.Delivery Method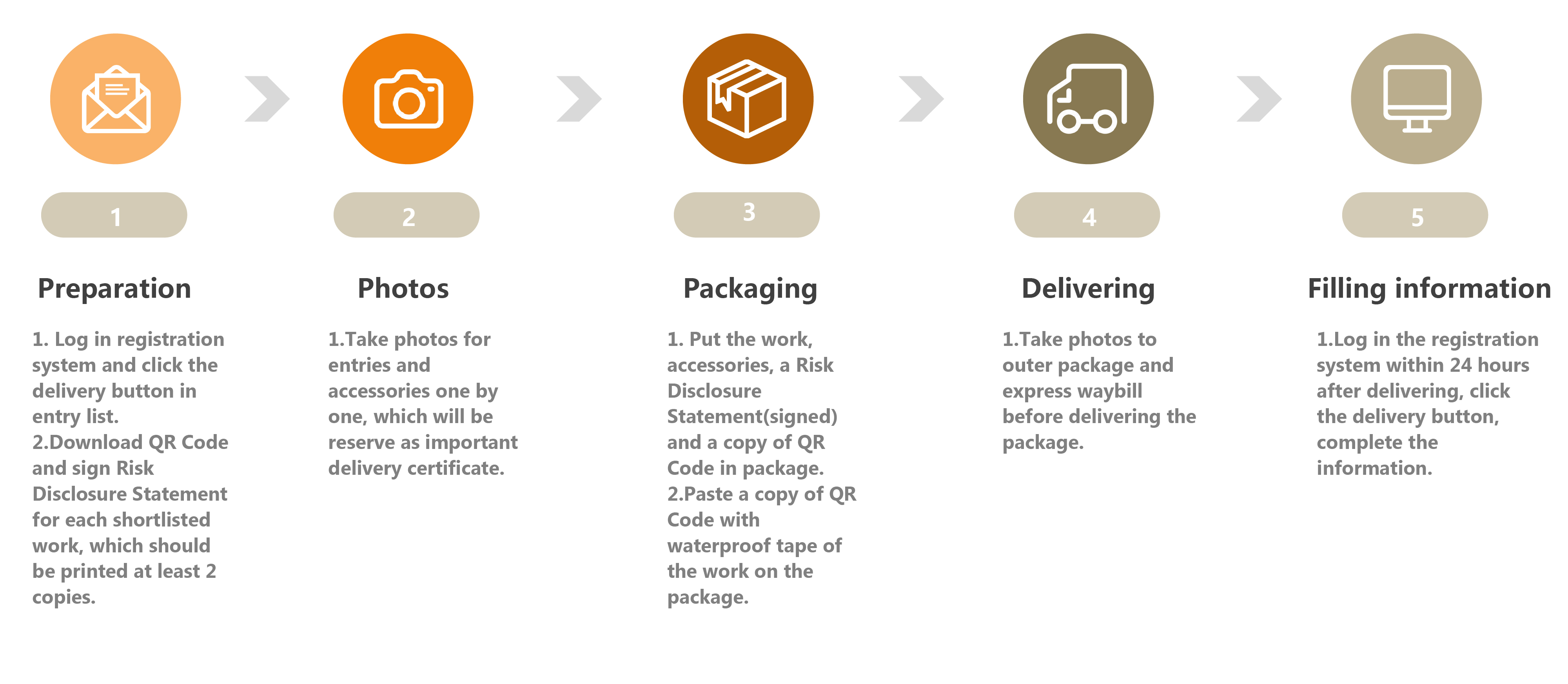 1.Please follow the process above to complete the shipment.
2.All entries participating in Second Evaluation must submit video in Registration System and ship the physical product or prototype.
3.For entries are too large to transport like aircraft, vessel, etc., participants can ship a small-scale model.
4.Entries in digital Interaction should provide hardware carriers with software.
5.Participants should bear all expenses occurred in delivery.
6.Participants should inform DIA Committee by email before 16:00, June 21, 2019(UTC+8) if the length of the entry exceeds 2m.
7.Participants should contact DIA Committee for making an appointment at least one day in advance for self-delivery.
8.For oversea participants, please read the Notice for Overseas Shortlisted Entries.
9.Entries as below will be rejected by DIA Committee, which will be deemed as giving up the evaluation qualification automatically.
1)Entries don't arrive during delivery duration.
2)Entries need to pay freight or customs clearance fees by DIA Committee.
3)The package is damaged seriously.
4)Entries don't fill in delivery information in registration system within 24 hours after sending.
5)Entries don't paste QR Code on package.
6)Entries are not qualified in Second Evaluation.
4.Returning
1.Entries should not be fetched without permission, DIA Committee will arrange entry returning twice.
2.Non-shortlisted entries will be returned on July 22,2019-Aug. 2,2019.
3.Shortlisted entries will be returned on Nov. 1, 2019 to Nov. 15, 2019.
4.DIA Committee strongly recommends that the participants package entries or get back themselves due to the risks in packaging.
5.DIA Committee may entrust a third party to assist in sending entries back if participants cannot come and get entries back by their own.
6.Any costs and losses occurred in assisting returning shall be borne by the participants.
7.If sending back to China, DIA Committee will send it by freight collect.
8.If sending back to overseas, participants must provide an international express account withholding account in advance.
9.DIA Committee shall not be responsible for returning self-deliver entries. The participants shall pack and take the entry back by their own in specified time. Please make an appointment at least one day in advance.
10.Participants should fill in the return information in DIA system before July 10, 2019. It will be deemed as giving up the ownership of the entry and DIA Committee has right to dispose it if participants don't contact DIA Committee before Nov. 15, 2019.
11.All the participants obtaining the bonus shall donate their physical entries to DIA Committee. Entries required further development should be sent back once finished. Approved by the Committee, entries with difficulties in shipping such as boat, train and plane could be replaced by scaled models.
Entry delivery and return have great risks. Please read and sign in 2019 DIA Risks Disclosure Statement before shipping entries.
Once entries delivered, it will be deemed as you have read and accepted all above terms and conditions.
Any question, please email to info@di-award.org with Entry ID in the subject.
- The End -
Editor |Cheng Wenya
Designer |Lou Yiyin
Proof-reader |Ding Sihe,Enjoy