As one of the ways to spread Chinese traditional culture, cultural and creative products are also the main means to inherit and develop regional culture. In recent years, the cultural and creative products launched by museums have frequently made themselves know outside of fixed circle, such as the Bronze-Galloping-Horse-Treading-on-a-Flying Swallow Doll, the Four Sheep Statue Archaeology Chocolate, the Clay Eagle Tripod Ice Cream, etc. The key to their success lies in the organic combination of cultural elements and products, and the former provides high added value for the latter. Good cultural and creative products should not be just a simple combination of elements or novelty embellishment, but a harmonious unity of aesthetics, function and connotation.
Among the award-winning works of 2022 DIA Honorable Mention Award in the Product Group, there are 5 cultural and creative products with unique characteristics. The cultural creativity contained in them will bring you more design inspiration.
01 Shadow Play and Toys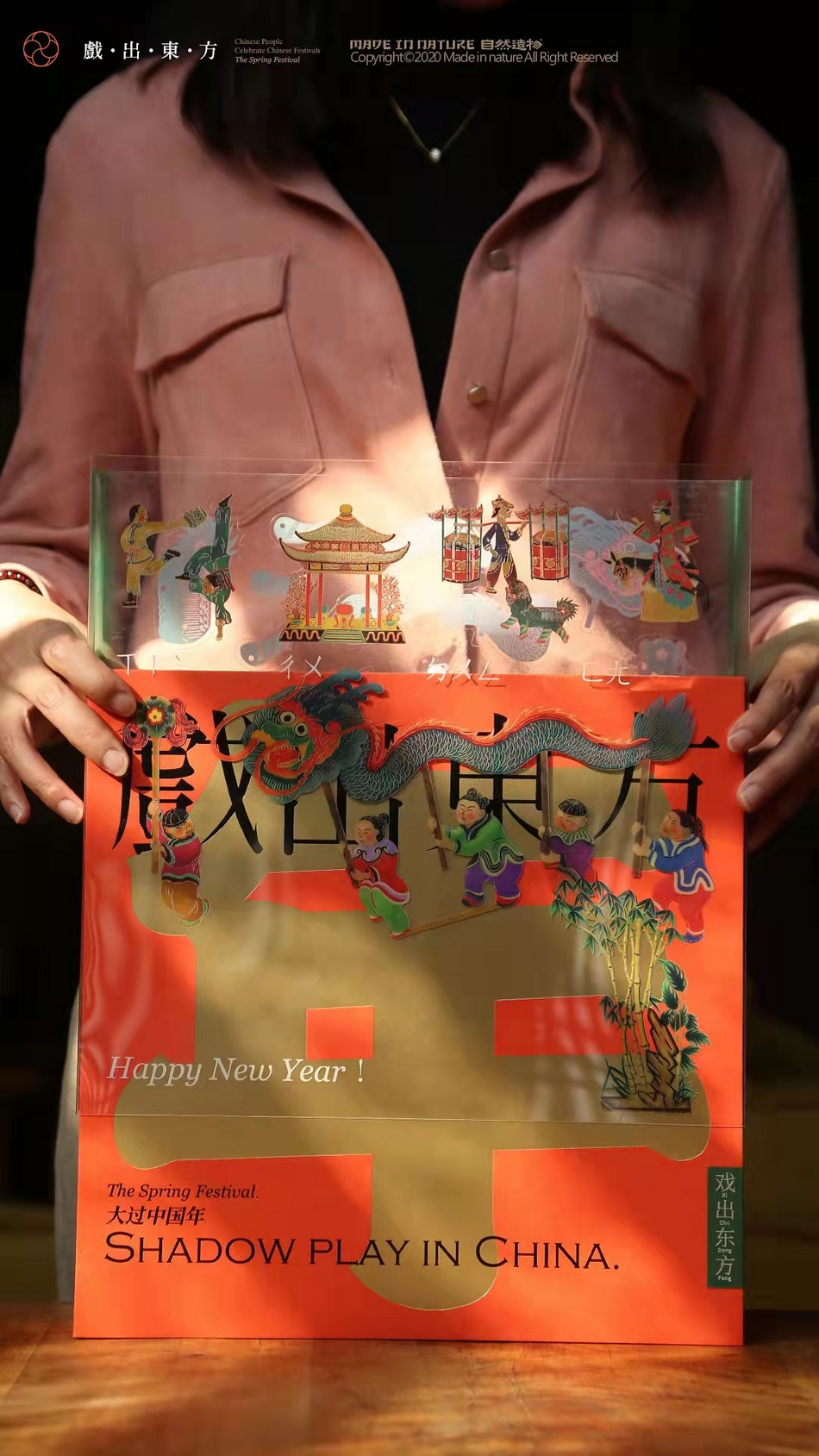 SHADOW PLAY IN CHINA
2022 DIA Honorable Mention Award in the Product Group
Owner: Zhejiang Made in Natural Culture Creative Co., Ltd.
Design organization: Zhejiang Made in Natural Culture Creative Co., Ltd.
Design team: Zhang Shuyan, Wang Mengtao
Shadow Play in China is a gift box inspired by the ancient art "Shadow Play". The design team's original intention is to bring back the Shadow Play to the vision of the public and let people feel and know this art that once prevailed.
Based on many years' experience accumulation in folk art research, the designers innovate and improve traditional cultural elements into cultural products that are more suitable for modern lifestyle. They hope that on the days of family reunion, you can put down your mobile phones and play with the families.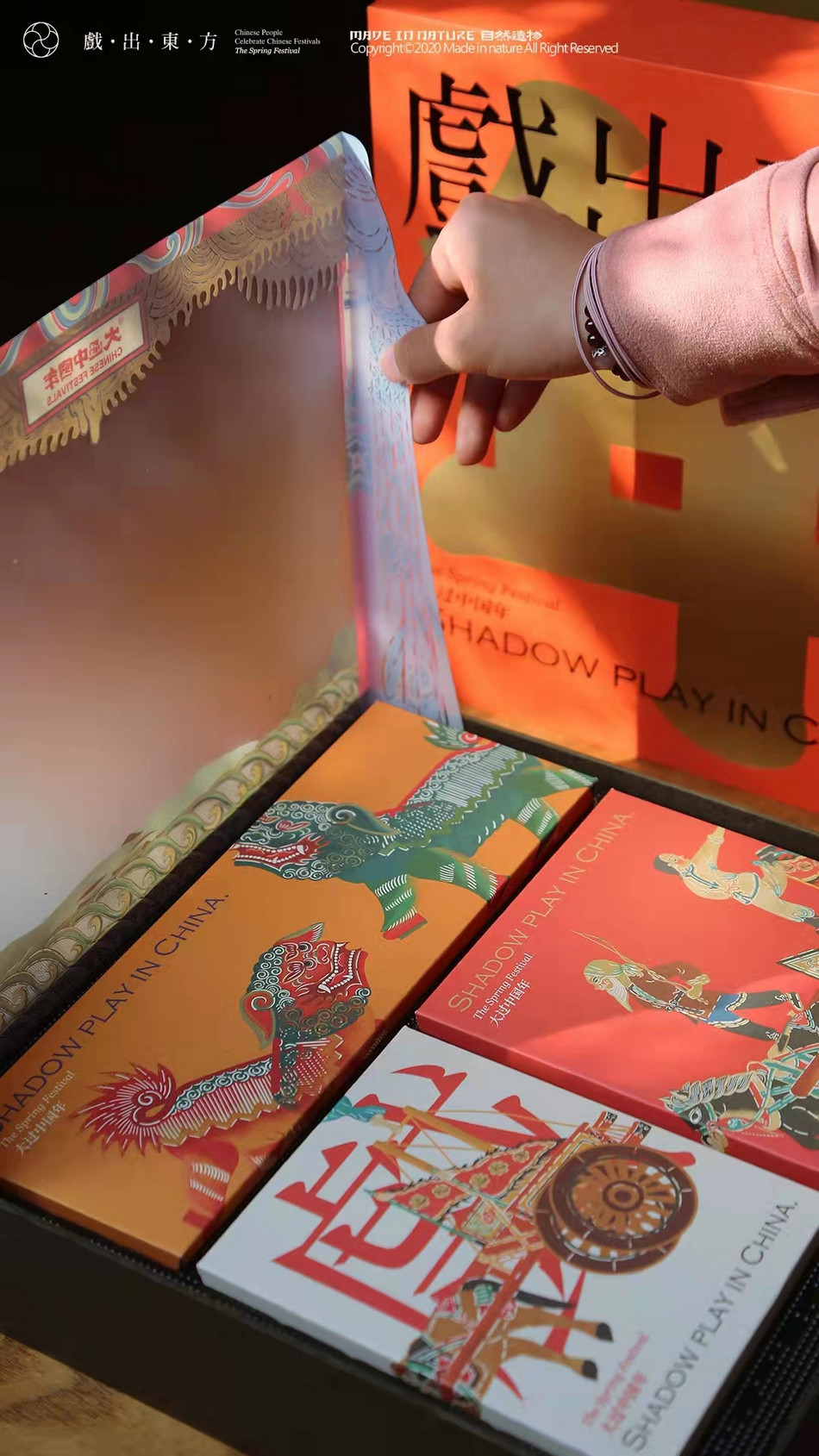 02 Porcelain-bodied Bamboo Ware and Thermos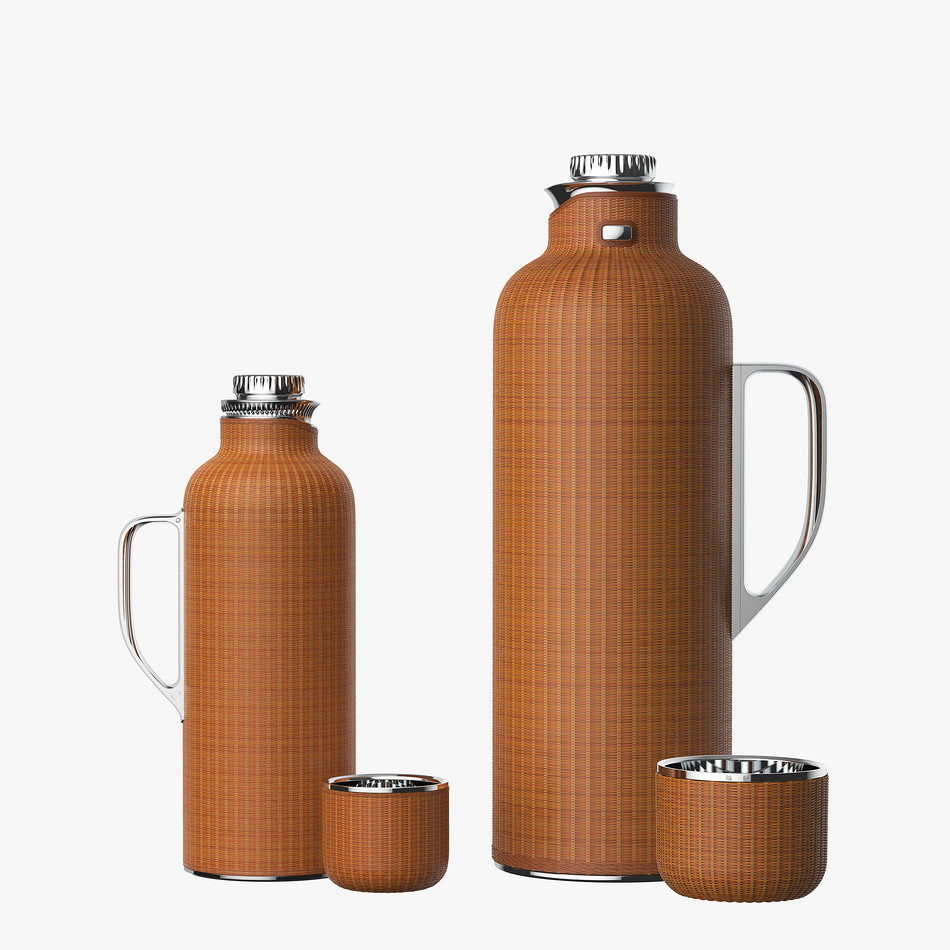 Heirloom thermos-Mini
2022 DIA Honorable Mention Award in the Product Group
Owner: Shenzhen Yiyuan Technology Co., Ltd.
Design organization: Shenzhen Yiyuan Technology Co., Ltd.
Design team: Ji Kunrong, Xia Feijian, Kong Hongqiang, Liu Anmin, Wu Dong
The heirloom thermos-mini is a thermos pot which combines modern technology with traditional handicraft, and it has the temperament of oriental aesthetic and is suitable for modern scenes of life.
The surface of the "heirloom thermos" is covered with the porcelain-bodied bamboo ware, the national intangible cultural heritage by non-genetic inheritors, which is a folk handicraft popular in Qionglai City, Sichuan Province. Based on the traditional thermos bottle shape, they created the shape of cheongsam and long gown, which has the simple and elegant harmony and the warm and nature of oriental traditional dress sense.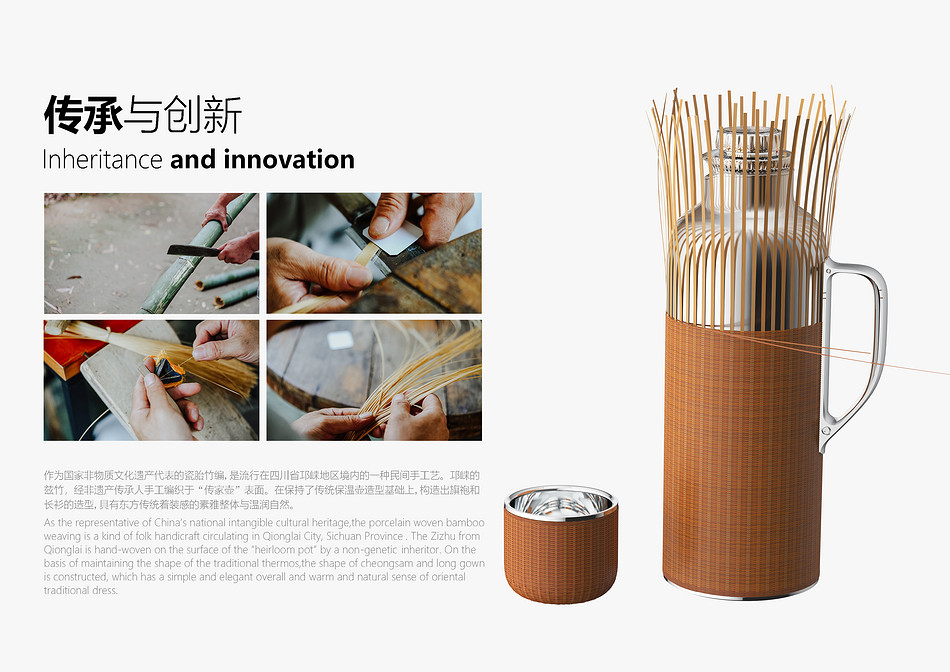 "Warm as the old days while the feeling is new". The design team innovates traditional daily necessities for modern life scenes. First, the mechanical thermometer allows users to know the temperature in time; The cover with magnet structure has no buckle and thread, which is more convenient for the users to hold; Plastic is not used in the whole thermos, the spout is made of medical grade stainless steel, and the inner container is made of double-layer medical grade pure titanium; Designers refer to the firearms process standard for the design concept of the whole pot process, so users can disassemble and assemble, maintain and repair the thermos by themselves.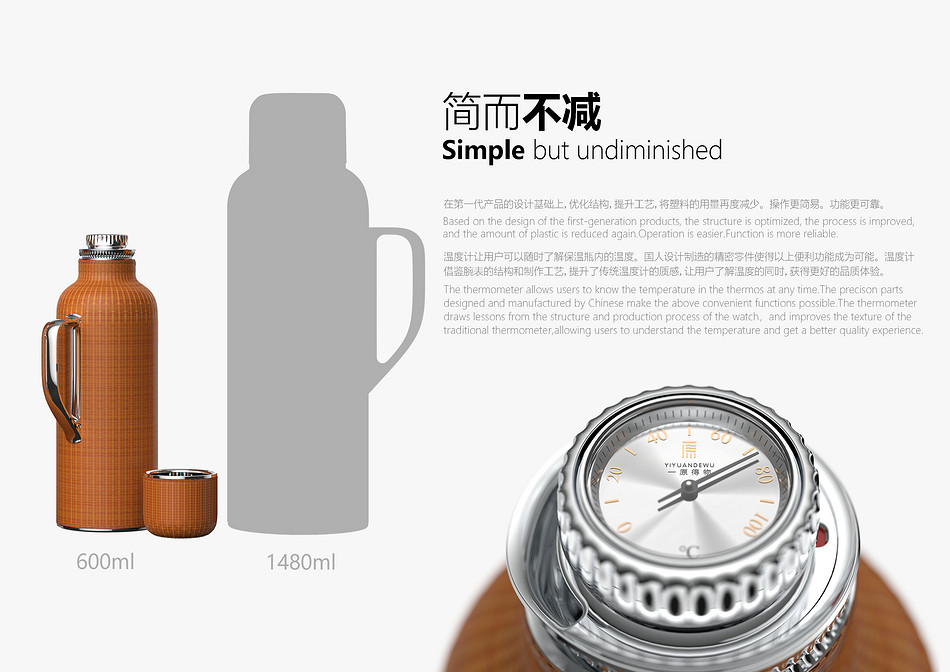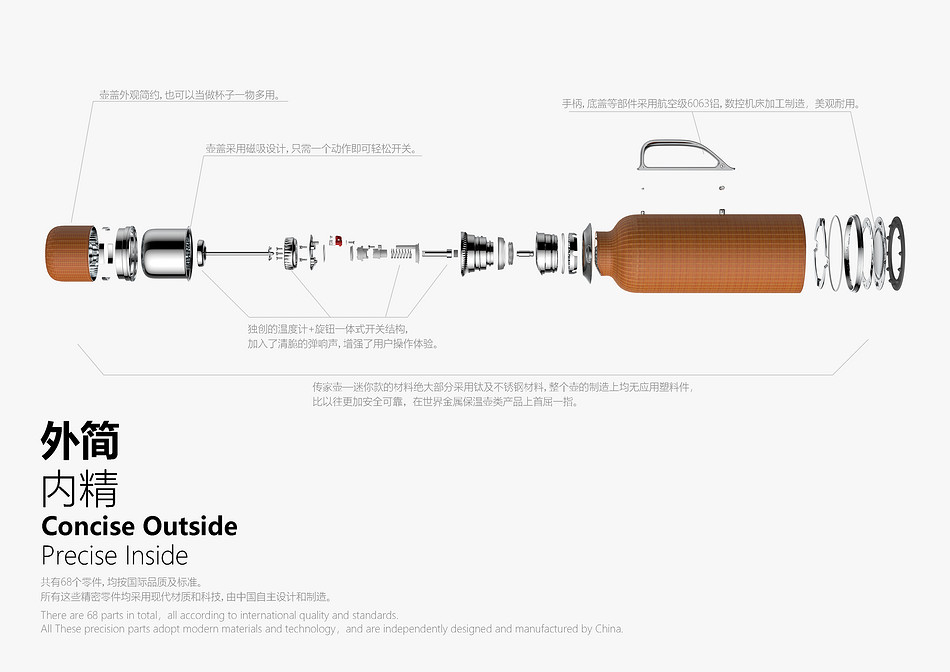 03 Confucian Culture and Stationery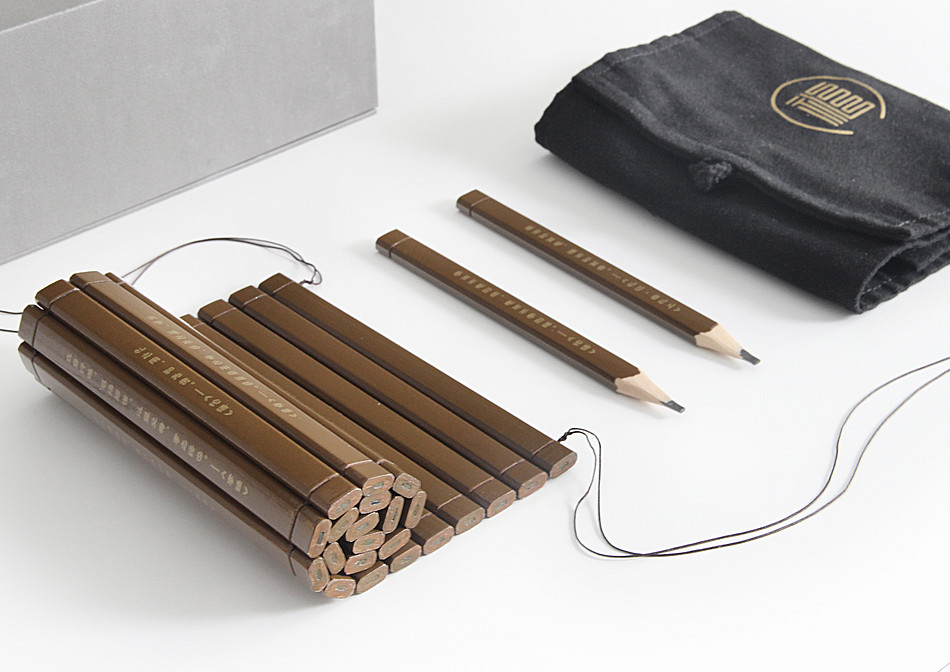 Bamboo pencil
2022 DIA Honorable Mention Award in the Product Group
Owner: Individual
Design organization: Individual
Design team: Zhang Yan
This is a printing ink pencil with bamboo slips as creative elements. It is hand-made with carved grooves and integrates Confucian culture into study and life, and realizes the inheritance and innovation of Chinese excellent culture with life-oriented creativity.
Bamboo slips play a vital role in the spread of Chinese culture, and are also typical writing tools in Confucius era. Many Confucian classic statements are found in bamboo slips. With bamboo slip as the creative element and pencil as the carrier, the designers print famous Confucian classics on them, so that people can feel how the ancient people record their thoughts and accept the influence of Confucian culture when using them.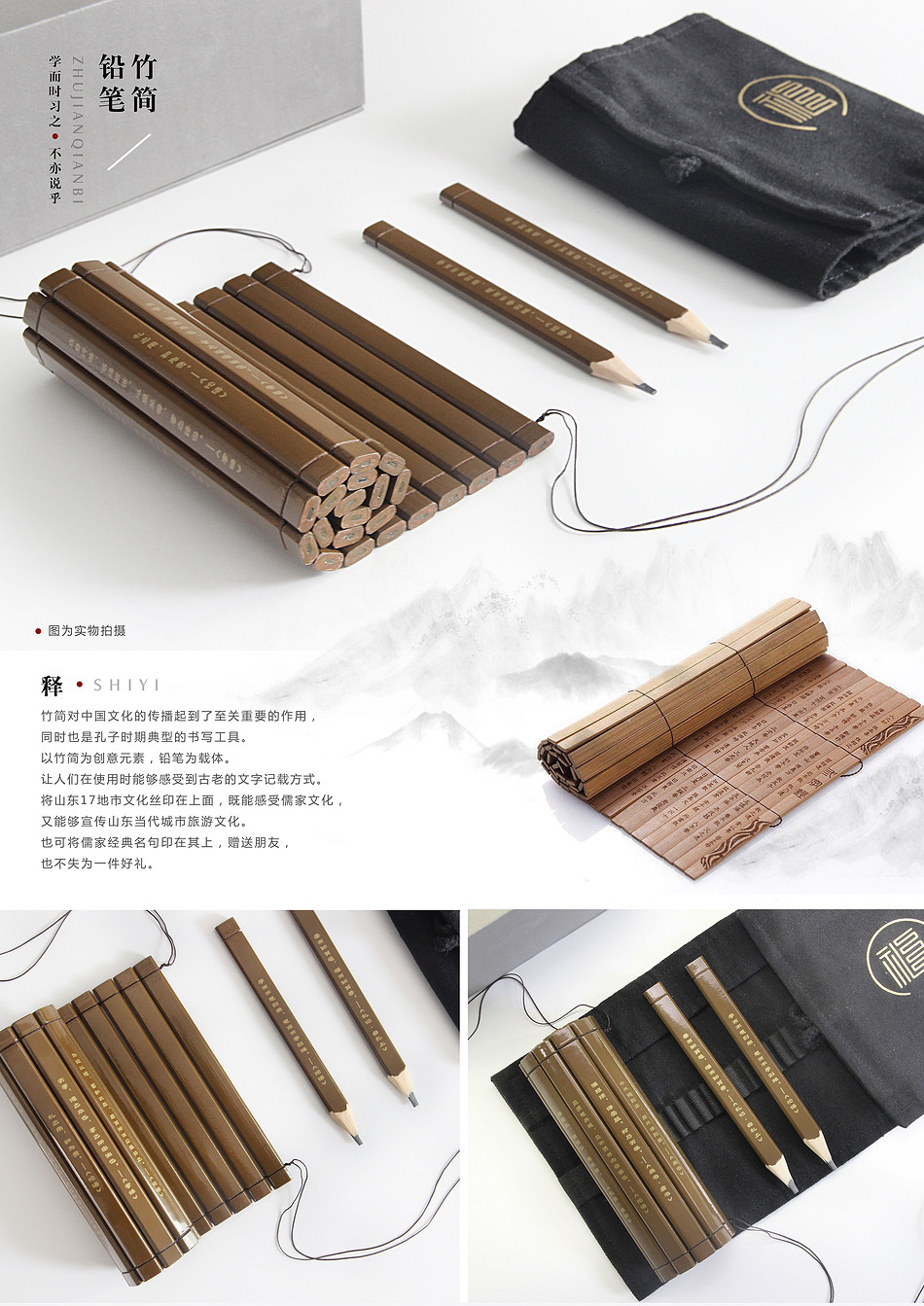 04 Ecological Protection and Accessories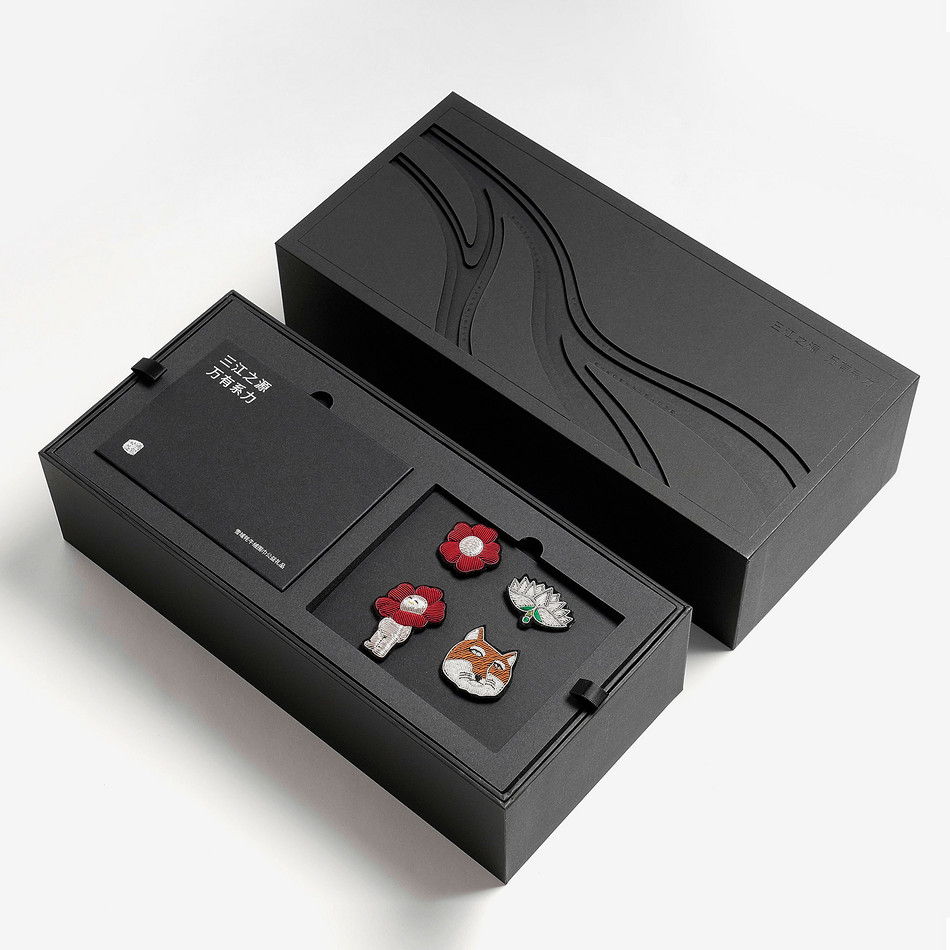 Sanjiangyuan Charity Gifts
2022 DIA Honorable Mention Award in the Product Group
Owner: Tencent Technology (Shenzhen) Company Limited
Design organization: Tencent Technology (Shenzhen) Company Limited
Design team: Huang Shali, Zhang Anji, Zeng Lingbo
This is a gift box bearing the theme of public welfare, which aims to appeal to the public to pay attention to the water source protection of Sanjiangyuan. In the conceptual design of the theme, the character "Xi" (系) is used to connect three layers of meanings. Firstly, it means the action of wearing scarves functionally, secondly, it refers to the Sanjiangyuan ecosystem that nourishes Chinese civilization, and finally, it expresses the meaning of "connection", not only connecting you and me in cities with environmentalists growing on the plateau wilderness, but also connecting rural revitalization and sustainable public welfare undertakings.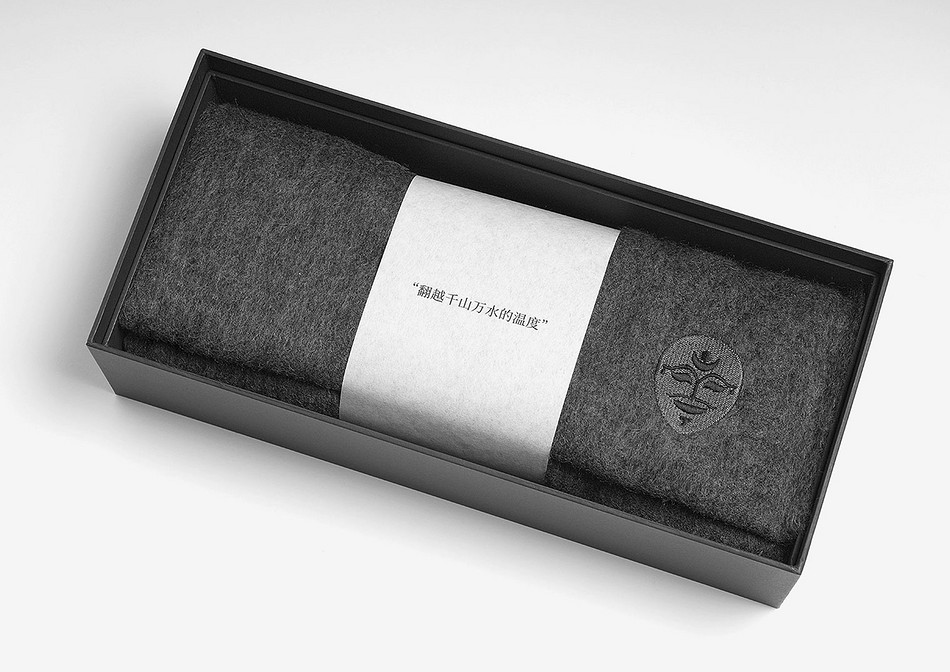 In product design, the high-end scarf produced with rare yak hair in Tibetan areas adopts non-dyeing process. When paired with the handmade wire brooch, it contains not only elements from local culture, but also small red flowers and small red flower figure representing Tencent's public welfare, which has strong cultural attributes and public welfare value.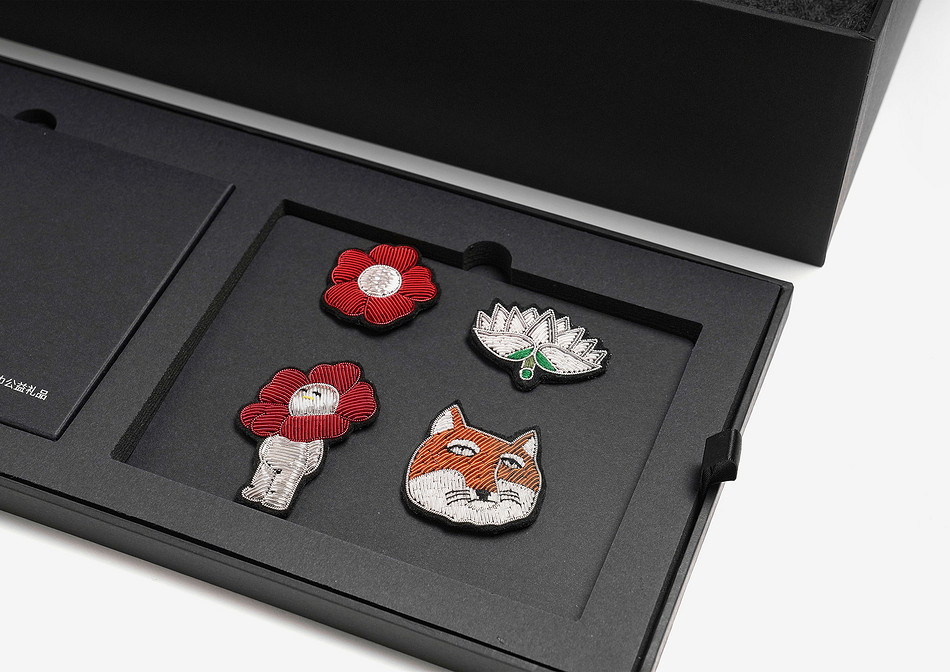 In package design, the use of ink is reduced on the premise of ensuring the protection function of package. The minimalist printing process is adopted, and the low-key black gold blocking process and special paper materials are selected. The braided water system of Sanjiangyuan is displayed with three layers of strip hollowing process, so as to show the flowing sense of Sanjiangyuan water system.
05 Jade Cong Culture and Purple Clay Tea Pot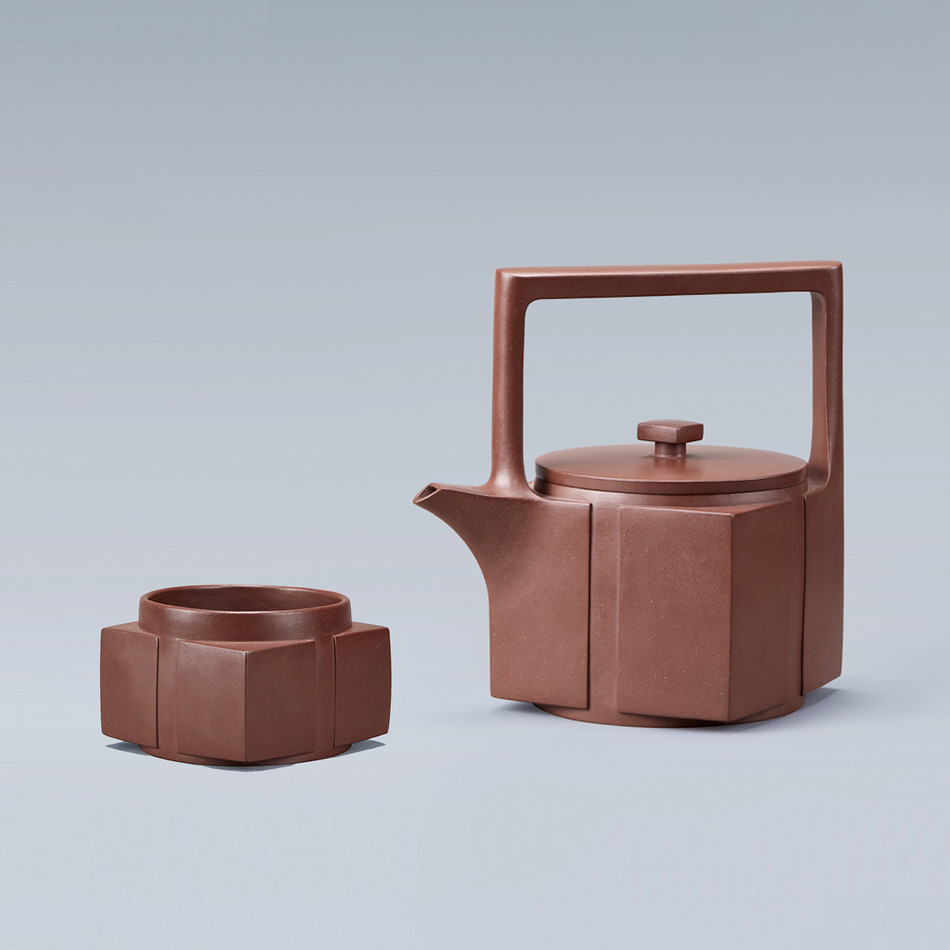 YA CONG Handle Pot
2022 DIA Honorable Mention Award in the Product Group
Owner: Zhijiang College of Zhejiang University of Technology/Hangzhou Daqiao Creative Design Co., Ltd.
Design organization: Zhijiang College of Zhejiang University of Technology
Design team: Xu Le, Bao Liyuan, Gu Wanwan, Chen Xin, Shen Kunhao
主创团队:徐乐,包力源,辜弯婉,陈欣,沈堃昊
This is a tea ware combining Liangzhu Jade Cong culture with purple clay art. Jade Cong was a kind of ritual vessel in ancient times, and the purple clay teapot was used to entertain guests with tea, which also played the role of ritual vessel and implied unity in meaning.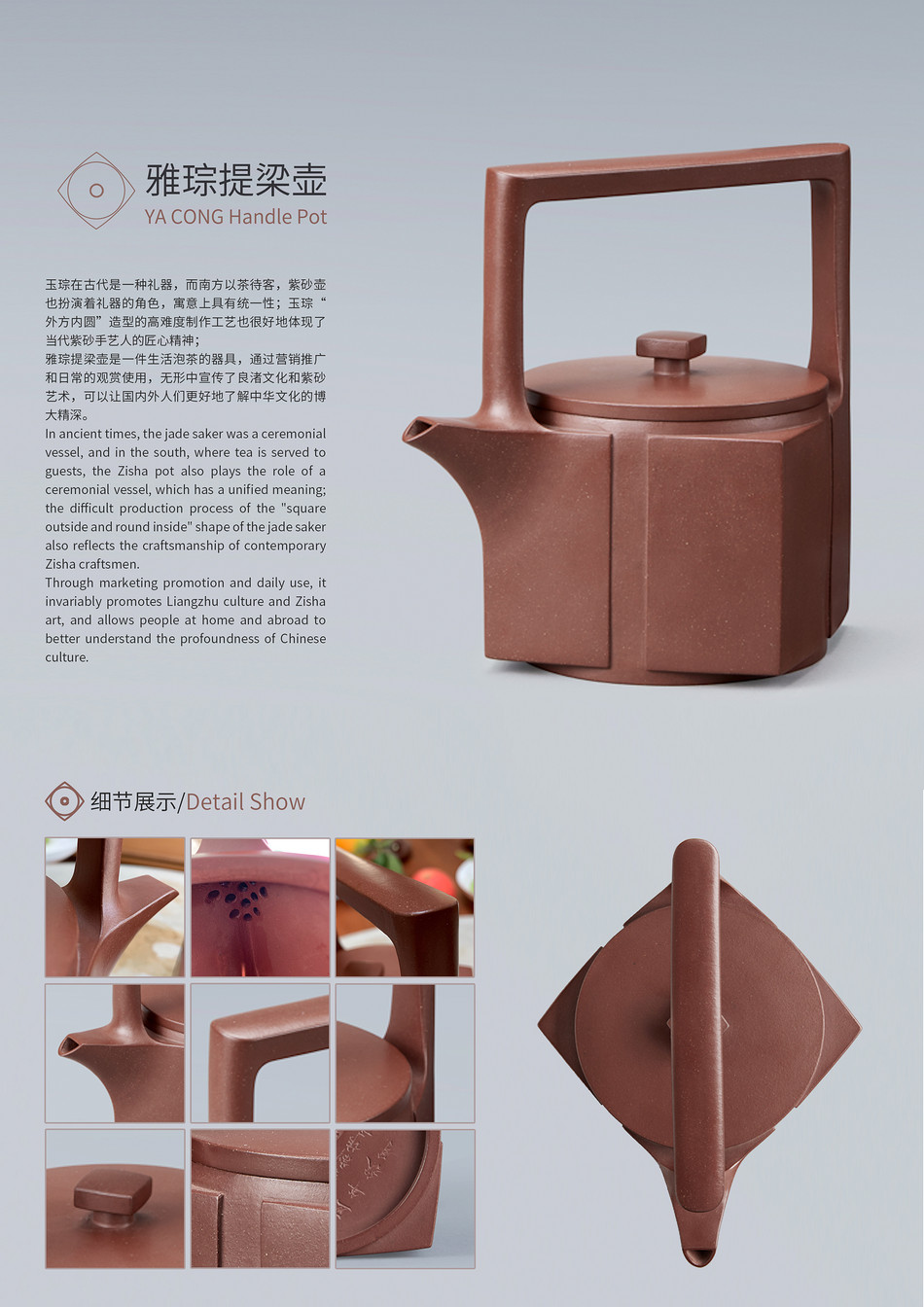 The appearance design of the YA CONG Handle Pot is born out of the Yu Cong shape, which is systematically designed with the characteristics of "square internally and round externally", emphasizing the combination of hardness and softness. With the simple, primitive and elegant shape, it has high artistic value and utility function. In addition, as tea ware, it can publicize the Liangzhu Culture and the purple clay art invisibly through users' daily appreciation and use, so that users will better understand the profoundness of Chinese culture.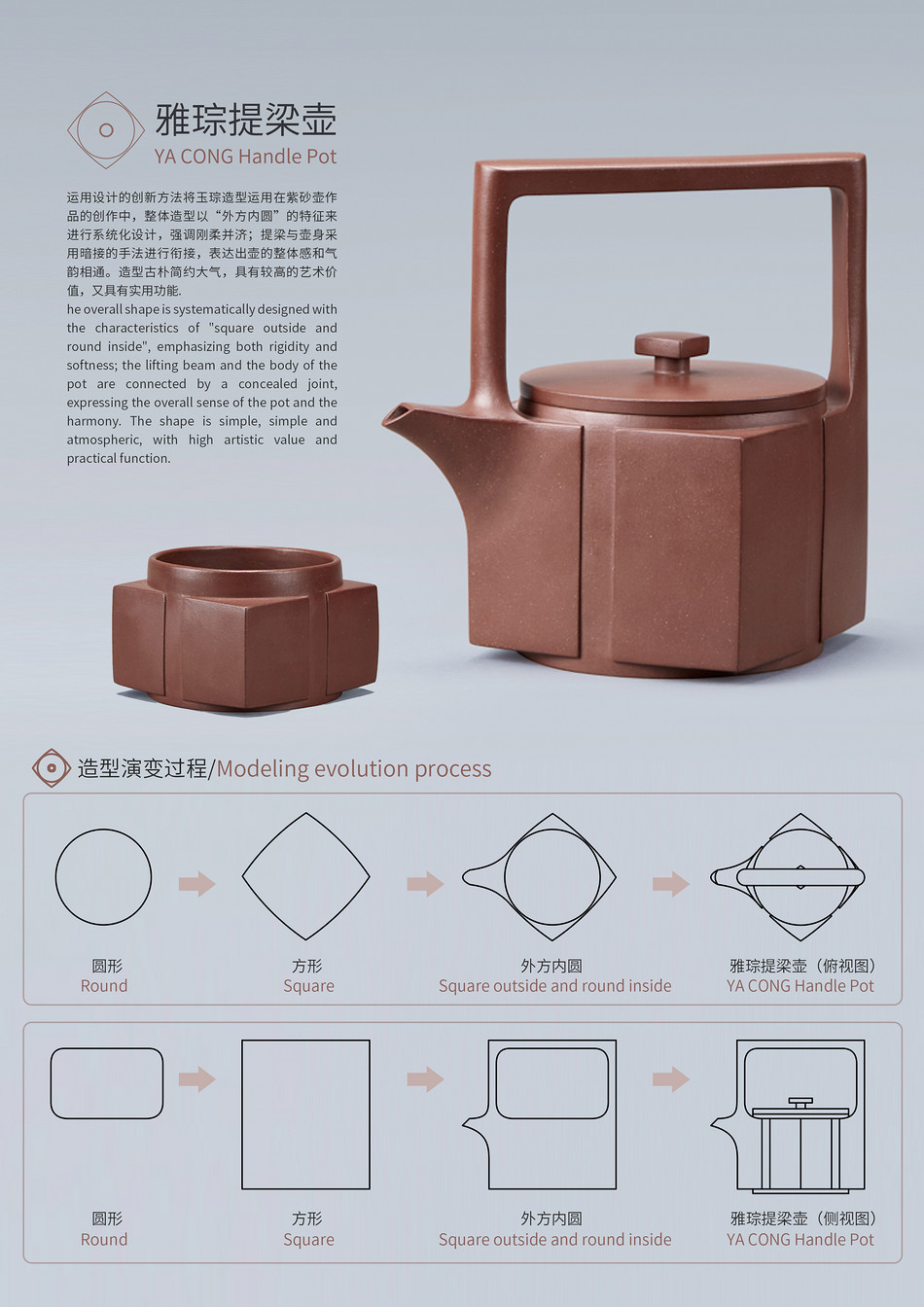 China has a cultural heritage of 5,000 years, which can be used as the fertile ground for the development of cultural and creative products from ideology, literature and art to clothing, diet and customs. They can promote the integration of cultural resources and modern life, so that products can not only adapt to the needs and preferences of consumers, but also nourish the consumers in use. In this process, culture can be spread more widely, thus achieving a double harvest of social and economic benefits of products.
Editor | Wu Zhiwen
Executive Editor | Fan Fei
Reviewer | Yang Duoying
---
Gather Great Wisdom to Shape the Future of Intelligent Manufacturing
Follow us
You will learn more information about the 2013 DIA award-winning works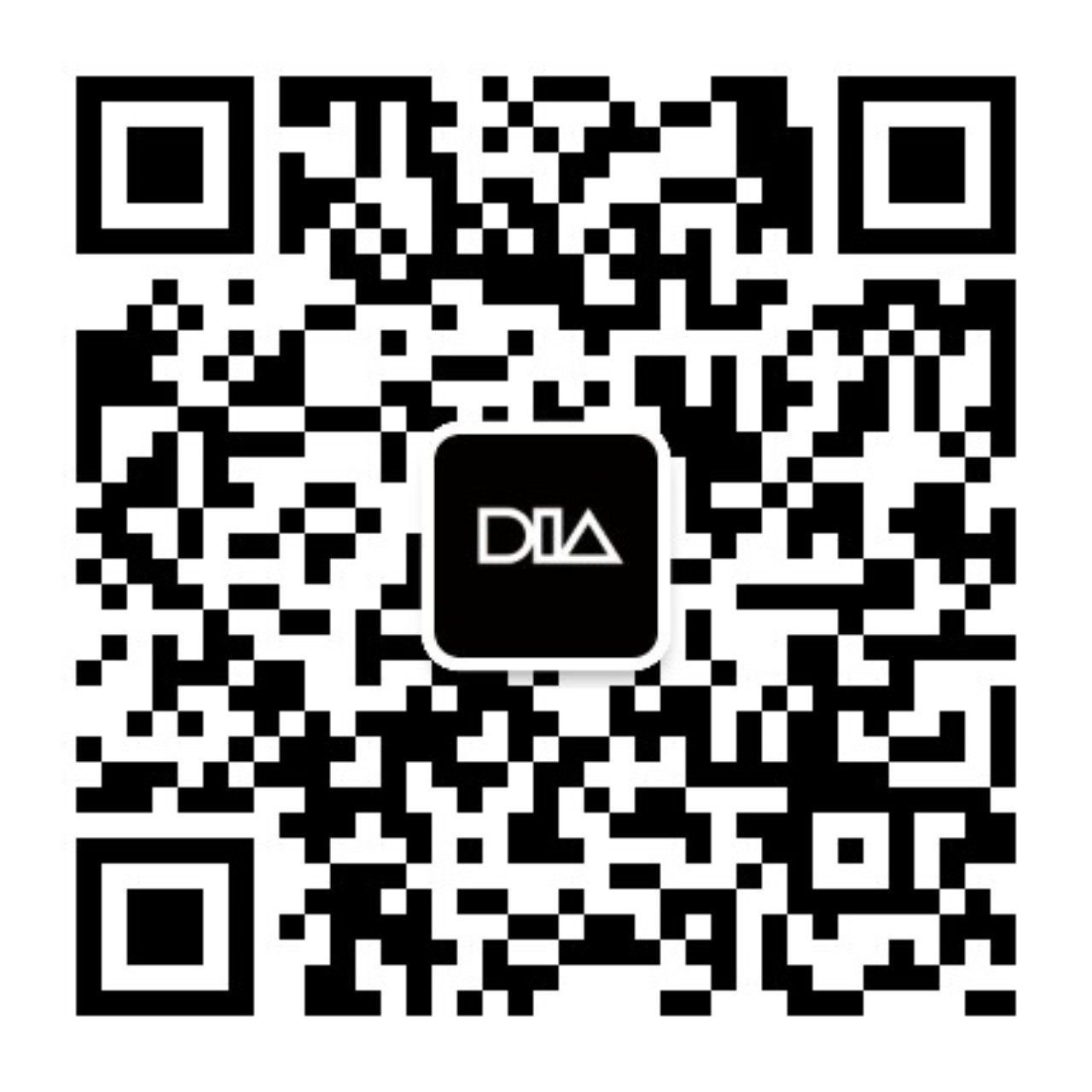 DIA WeChat official account
Scan the QR code to follow us and learn more about DIA events